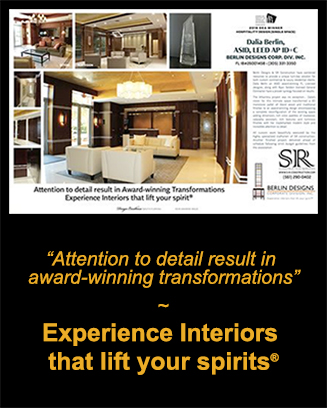 About Berlin Designs
Contact us today
Since our founding in 1987, Berlin Designs Corporate Division, Inc. has grown into one of South Florida's leading design studios.
Our long-standing client relationships have been established and maintained based upon our capacity to listen to our client's needs, comprehend their goals, and translate their 'wish list' into efficient and well-designed spaces.
Whether it is a prestigious office, luxury home, casual cafe or an upscale medical suite, our dynamic professional design team is enthusiastic to expedite any type of project from the initial planning phase to the final details before move-in day.
Staying ahead of the latest in the interior design industry coupled with the ingenuity and imagination of our experienced professionals has made Berlin Designs Corporate Division, Inc. a dominant player in this market. Showcasing successfully a diverse range of projects throughout South Florida for corporate facilities and luxury homes. Striving to create a stunning first impression when your guests enter your space for the first time is the primary goal. A focus on sustainable designed space which promote a stress free environment will help increase appeal of such environment.
Our customers are located in local communities such as Golden Beach, Aventura, Bal Harbor, South Beach, Coral Gables, Brickell and Key Biscayne; internationally from South America to Europe and beyond.
One of our primary responsibilities as interior designers is to focus on all the key elements in your home or office space. The next step is to create a functional environment in each of these elements that enhances such space and finally, create a unique design solution that relates to your vision while maintaining a balance between functionality and aesthetics.